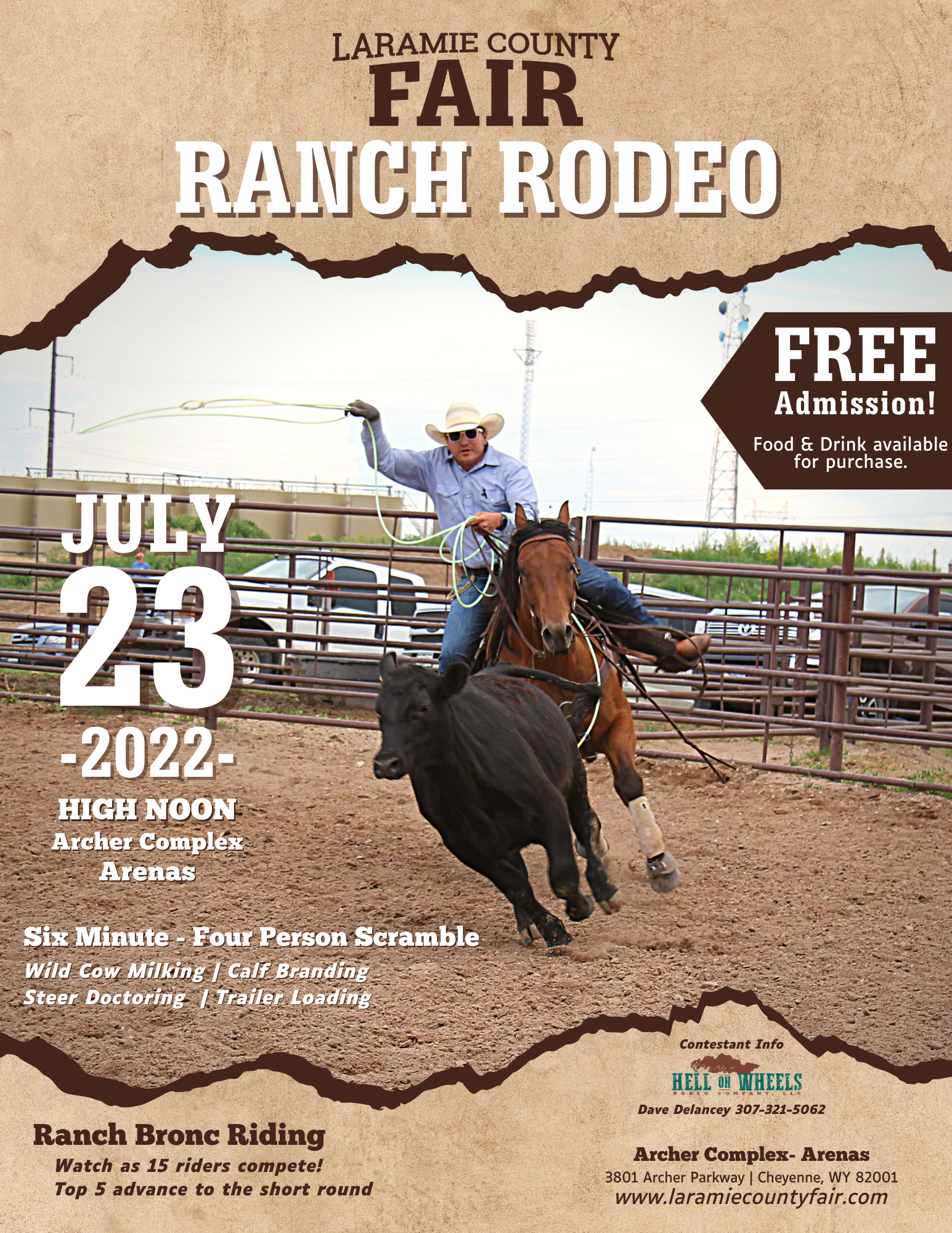 Laramie County Fair Ranch Rodeo
Saturday, July 23rd
Noon
Archer Arenas
FREE and open to the public.
Join us for an exciting afternoon of rodeo at the Archer Arenas. Food and drinks will be available for purchase.
Ranch Rodeo
Judges: Troy Vernon and Randy Strain
10 Ranch Rodeo Teams
$3,000 added 100% pay out
1st $2800 for team  |  2nd $2100 for team  |  3rd $1400 for team  |  4th $700 for team
Rules
Four Events: 6 Minute time limit to complete all 4 events
Calf Branding | Steer Doctoring | Trailer Loading | Wild Cow Milking
Calf Branding

The calf branding

will start the scramble. One member will ride into the pen and heel designated (numbered) calf. Two members will wrestle calf, while 4th member will brand calf (DVD on left rib). Calf must stay in the pen, branding iron must be returned to bucket, and all members may then mount and continue competition and move onto next event.
Steer Doctoring

There will be three head of cattle in the arena. The team will doctor one of the steers, the team will load one steer and will milk one cow.

For the doctoring event, the team will head, and heel one of steers. The team will then tie at least 3 legs of the steer which will need to stay tied for 6 seconds and will put an X on the "doctored" steer. All ropes must be removed except for the pigging string tying the steer.
Trailer Loading

For the Trailer Loading, one of the steers must be loaded in the trailer by whatever means necessary. All of the gates will be closed on the trailer to begin; there will be no setting of the gate prior to the time starting. Once the steer is in the trailer the ropes must be removed and the gates must be closed and latched.
Wild Cow Milking

For the milking event, the team can head and heel the horned cow or head and mug the cow to milk her. Once the cow is milked, the bottle will need to be taken to one of the judges to pour the milk out. There must be enough milk in the bottle to pour out and not just drops come out. The bottle to gather the milk in will be placed by the branding bucket.
There will be

NO

roughing of the animals and the Judge's decision is FINAL. Any intentional roughing of the animals or horses will result in the team having a NO TIME. Everyone is hand enough to recognize roughing of animals.
The main intent of this Ranch Rodeo is to have fun for the day!
 Ranch Bronc Riding
Judges: Troy Vernon and Randy Strain
15 Ranch Bronc Riders in 1st go
Ranch Bronc Calcutta before short go  |  Auctioneer: Steve Price
Top 5 High Scoring riders back to Short Go
Long Go Pay out: 1st $300 | 2nd $200
Short Go Pay out: 1st $900 | 2nd $750 | 3rd $600 | 4th $450 | 5th $300
Rules
Ride as you can for 8 seconds. A standard working saddle must be used. No PRCA rigging allowed. No hobbling of one or both stirrups. Horse has to be saddled as he would be for everyday use. If catch rope is carried on the saddle, it must be attached as it would be for everyday use. Saddled for everyday use means: stirrups have no bindings in order to hold stirrups forward, nor can they be hobbled under the horse's girth. Flank cinch must be hobbled to front cinch with hobble strap no longer than 10 inches. Rope must be free except for the rope strap, no tying rope to anything but the rope strap. Stirrup leathers must be standard leathers. Saddle blankets or pads should be used. Saddles should have full or 7/8 double rigging, no centerfire or 5/8 or ¾ rigging allowed.
Saddles will be inspected before unsaddling in the stripping chute. Violations will result in immediate disqualification in the ranch bronc riding for the round.
A regular bucking horse halter will be provided by stock contractor, single rein provided by ranch bronc rider. Points will be awarded for the difficulty of the horse and for the degree of aggressiveness, control, and exposure demonstrated by the rider.
If the rider believes that he has been fouled, he must yell "foul" in the first 3 seconds of the ride and then continue to make the best ride possible throughout the 8 second ride. A re-ride may be awarded at judge's discretion. Judge's call is final.
Berry Ranch - Team 1
Jeff Berry
Brett Berry
TC Berry
Miles Daily
Jace Beard Team - Team 2
Theo Federer
Boyd Supan
DJ Tidyman
Jace Beard
Wyoming Bank & Trust - Team 3
James Graves
Tom Farthing
Ryan Farthing
Clay Stecklein
Thompson Livestock - Team 4
Nolan Brott
Kyle Leoffler
Logan Milligan
Hardy White
Ty Thompson - Alternate
Crow Creek Cattle - Team 5
Matt Dole
Waylon Evans
Conner James
Rian James
Q Creek Ranch - Team 6
Colten Salyer
Colton Roark
Colt Travnicek
TC Kenyon
Porter Creek Livestock - Team 7
Kyle Breeden
Royce Breeden
Shawn Hall
Harrison Hall
Diamond 6 Performance Horses & Horseshoeing - Team 8
Tyler Erickson
Adonis Sheeley
Myron Mulkey
Tyler Sheroder
Load Em In The Dark - Team 9
Philip Smith
Joe House
Katie Bennett
Brace Pingetzer
Rusty Spurs - Team 10
Rowdy Bond
Josh Beavers
Bryce Stack
Jared Seeley
Matt Dole
Waylon Evans
Joe House
Wade Printz
Carl Ackerman
Colten Miller
Cody Miller
Justin Quint
Dalton Harter
Timmy Haller
Cobe Hinton
Jacob Johnson
Wesley Aragon
Wesley Rosengreen
Waylon Fletcher
Order of Events
July 23rd  |  Archer Arena
10:00 AM Contestant check-in open (in the brown building on the East side of the arena) with Rodeo Secretary.
All contestants must sign a release prior to start of competition or they will be turned out.
11:15 AM Contestant check in closes.
11:30 AM Mandatory Contestant and Judges meeting. All questions will be answered at this time and rules will be reviewed.
12:00 PMGrand Entry: Cheyenne Saddle Tramps, National Anthem and Prayer
5 Ranch Broncs Bucked
Matt Dole | Waylon Evans | Joe House | Timmy Haller | Cobe Hinton
4 Ranch Rodeo Teams Run
Wyoming Bank & Trust Team #3 | Porter Creek Livestock Team #7
Diamond 6 Performance Horses & Horseshoeing Team #8 | Q Creek Ranch Team #6
5 Ranch Broncs Bucked
Wade Printz | Carl Ackerman | Colten Miller | Jacob Johnson | Waylon Fletcher
3 Ranch Rodeo Teams Run
Load Em In the Dark Team #9 | Crow Creek Cattle Team #5 | Berry Ranch Team #1
5 Ranch Broncs Bucked
Cobe Hinton | Justin Quint | Dustin Harter | Wesley Rosengreen | Wesley Aragon
3 Ranch Rodeo Teams Run
Rusty Spurs Team #10 | Thompson Livestock Team #4 | Jace Beard Team #2
Calcutta for Short Go Ranch Broncs -5 Ranch Broncs Buck in Short Go
Buckle / Awards Presentation
1st Place Ranch Rodeo Team (Buckle) | 2nd Place Ranch Rodeo Team (Team Jackets)
1st Place Ranch Bronc Rider (Buckle) | 2nd Place Ranch Bronc Rider (Jacket)
Top Hand Award for Ranch Rodeo | Top Horse Award for Ranch Rodeo
Thank you to our Buckle Sponsors
Big O Tires of Cheyenne
High West Energy
R&B Breakfast Club
Bank of the West
Sutherland Trucking
Steve and Ann Secrest (Ken Garff Ford)
Jonah Bank
J&S Livestock
Welding & Machine Inc.
Ranch Rodeo Coordinator:  Hell On Wheels Rodeo Company, LLC
Judges:  Troy Vernon and Randy Strain
Announcer:  Steve Price
Ranch Broncs:  Provided by Royce Ford / Ford Horse Company
Ranch Rodeo Stock:  Provided by Hell on Wheels Rodeo Company, LLC
First Responders: AMR
Kali True
Amber True
Lindsey Kisicki
Emily Sowards
Erin Griess
Austin Griess
Jordan Greiss
Brody Maas
Thomas Vanoverbeke
Events Director: Dan Ange
Fair Manager:  Nicholle Watkins
Grounds Manager:  Larry Milbourn
Office Coordinator:  Felicia Lawhead
Events Manager:  Katherine Rhoades
Marketing & Sponsorship Manager:  Monica Muñoz