USE AT YOUR OWN RISK
BY USING THE RV PARK OR HORSE STALLS YOU AGREE TO THE FOLLOWING:
By using the RV Park or Horse Stalls, you acknowledge that use of these facilities carries the inherent risk of property damage, loss, theft, minor or serious injury and death to persons or animals.
In consideration for your use of these facilities, you, on behalf of yourself, your agents, heirs, assigns and/or any entity you represent or on whose behalf you act, have agreed to waive any claim against and fully indemnify Laramie County, its officers, agents, elected officials, and volunteers many clains, causes of action related to loss or damage resulting, occurring during and/or related to your use of these facilities.
This includes but is not limited to, loss or damage occasioned by failure or defect in utility services and acts or actions by third parties. Laramie County takes no responibility for the care, custody, or control over vehicles or animals parked, present, or using this facility.
Laramie County through it employees, agents, or vulunteers, reserves the right to refuse service for any reason and to direct any individual or group to remove themselves, their vehicles and/or animals from these premises for any reason at any time.
You are obligated to comply with all applicable laws and or regulation including but not limted to Laramie County's rules and regulations, and any applicable interstate requirements for vehicle certification and licensing, vaccination, and brand inspection.
Laramie County does not waive its governmental immunity in its operation, offering or provision of this facilitiy or any associated services of functions.
In the event of an emergency call 911.
---
REQUEST YOUR RESERVATION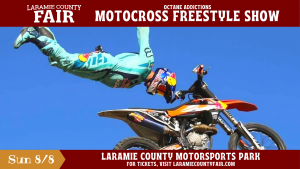 Tickets on sale now!
Save with the Mega Pass deal that includes tickets to each of our Laramie County Motorsports Park events!
Sign up and keep up to date with our latest events!