Main Event Floor
The new Event Center at Archer is Laramie County's new multi-purpose event facility.
The venue features a finished concrete event floor of 49,000sqft, with an additional 15,000sqft Prefunction area perfectly suited for vendor booths or registration tables.
---
Meeting Rooms
Located in the northeast corner of the facility, the Event Center at Archer features three separate meeting rooms, of which two rooms can be combined into a larger space. Adjacent to these spaces are set of restrooms dedicated to the meeting rooms
---
Dirt Barn
Attached to the east end of the Event Center is a 14,000sqft indoor dirt barn. This space features a permanent dirt floor, and with the overhead heating is an ideal space for equine activities during colder weather.
Formally known as the Great Northern Livestock Exposition, CLE is the place to be for…
Read More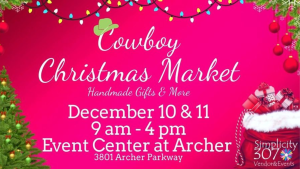 Join us for a day of of shopping from local artisans offering unique handcrafted items…
Read More
Sign up and keep up to date with our latest events!